Former Mayor of Albany, Oregon, 2009-2020
and former Albany City Councilor 1997-2008
"I have one thought I would like you to remember me by, and that is as a no gavel mayor. I went 12 years without using the gavel once. I proved you do not need a gavel to garner attention, all you need to do is smile. Just smile."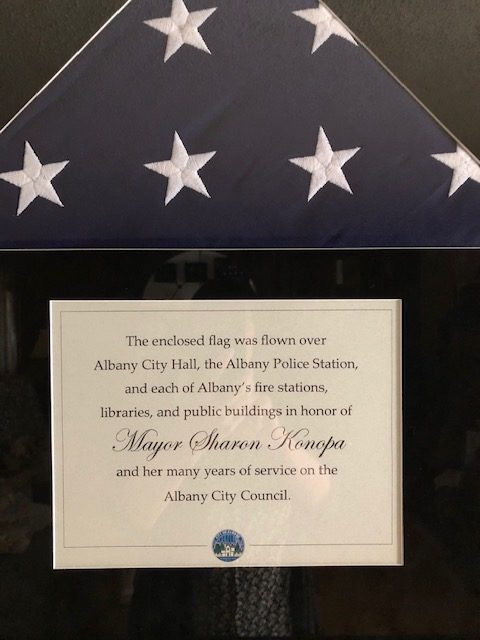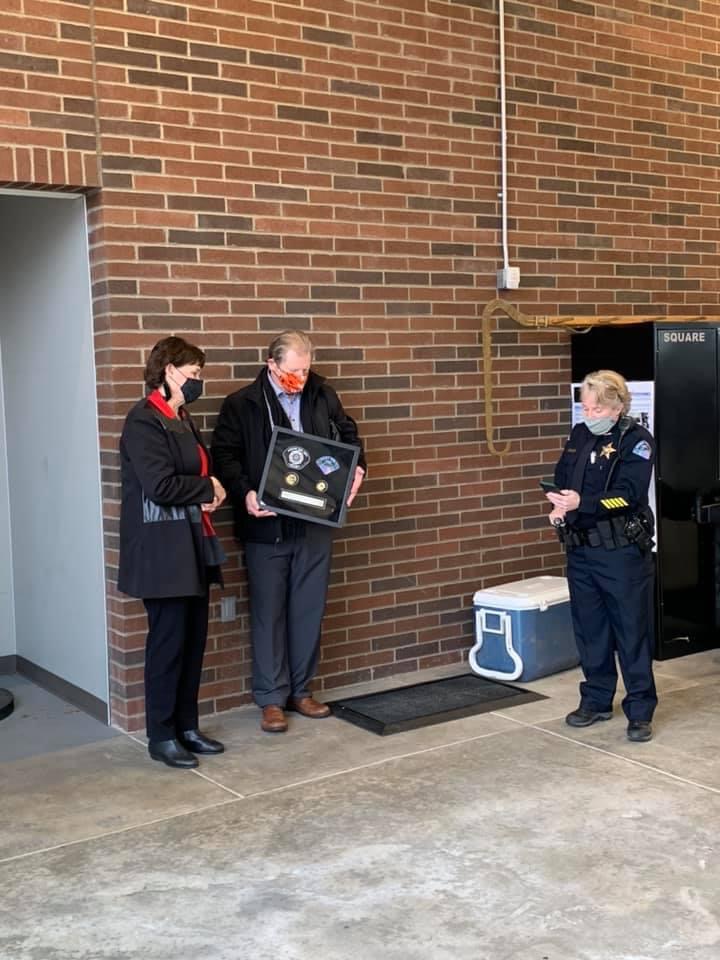 Mayor Konopa's recognition and honors for her 24 years of community service:
Recognition words from Albany City Manager Peter Troedsson
Recognition words for the Albany Landmarks Legacy Award
Recognition words from the Albany Visitors Association
Mayor Konopa's Final Message to the City of Albany
---
Albany mayor honored by Landmarks Commission
From the Albany Democrat Herald article Dec. 17, 2020:
On Wednesday, the Albany City Council Chamber was empty.
But people were still in line.
The fire chief, police chief, directors of local agencies and governmental department heads got into queue on the council's virtual meeting to say goodbye to the three councilors who vacated their seats and long-serving Mayor Sharon Konopa.
Konopa, who has been Albany's mayor for 12 years, traditionally chairs the meetings, ushering in speakers and calling matters to a vote. But on Wednesday, City Manager Peter Troedsson took over MC duties after Councilors Bill Coburn, Mike Sykes and Rich Kellum were honored with shadow boxes containing keys to the city.
"We have a shadow box for you, too, Mayor," Troedsson said, displaying an additional key to the city on the screen as well as an American flag that had flown over City Hall, the Albany Police Station and Albany Fire Station in honor of the outgoing mayor.
Then, one by one, screens clicked on, revealing new members of the meeting who had come to wish Konopa well.
"You have served enough time to grow three generations of Christmas trees, and we all love the traditions you helped to start," said Rebecca Bond, executive director of the Albany Visitors Association, as she fought back tears. "We knew someday our roles would evolve and relationships would change, but we know our friendship will continue. Working with someone so dedicated to the Albany community makes us all better. You raised the bar, and we know you are not done yet."
Parks and Recreation Director Kim Lyddane offered Konopa the memory of seeing her every Thursday for the city's summer music festival with her blanket and cup of coffee. On Wednesday she revealed a chair, usually reserved for sponsors and VIPs, monogrammed with "Mayor Konopa."
"We want you to know you always have a seat with us," Lyddane said.
New Albany Library Director Eric Ikenouye added to the pile of accolades that had Konopa steadily wiping away tears.
But it was Ikenouye's announcement of a coming resolution that had her covering her face, overwhelmed.
"At the next City Council meeting," Ikenouye said, "I will be introducing a resolution to rename the Garden Room the Sharon Konopa Garden Room."
The Albany Police and Fire departments offered Konopa challenge coins, and current Fire Chief Shane Wooton conveyed the thanks of the fire chiefs before him for Konopa's dedication to public service.
Coburn, Sykes and Kellum joined Konopa in saying goodbye on Wednesday, the last City Council meeting of 2020.
All three were awarded keys to the city and challenge coins and offered parting advice ranging from encouragement to get involved to urging those who come after them to ask more questions.
Konopa, who traditionally gives an end of the year statement as mayor, instead ended Wednesday's meeting with a farewell speech.
She encouraged the city to continue its restoration efforts and to continue funding public safety.
---
As Mayor, Sharon Konopa Receives State Leadership Award in 2017
Sharon Konopa is endorsed by the Albany Police Association, United Food and Commercial Workers Local 555 and Joint Council of Teamsters No. 37
See Sharon's Video at Democrat Herald
---
Konopa's Personal Background
Sharon Konopa is a native Oregonian. She has lived in Albany since a young child, and the South Albany area.
She and her husband Steve, both graduated from South Albany High School in 1975. They have been married since 1977 and have lived in the same home. They have a daughter, son-in-law and two grandsons who also live in Albany.