Experience and Commitment
What has Mayor Sharon Konopa done for Albany?
Just a few achievements listed below…….
---
Efforts and Achievements: Six Terms of Office
2017-2018
Mayor Konopa enjoyed bringing back the Waverly Lake duck to Albany's gateway lake. The City Council supported the efforts but did not want to appropriate any city funds to the project. Sharon took it upon herself along with the other great citizens of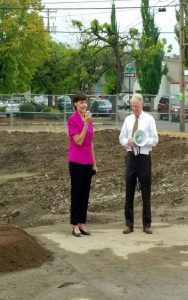 Albany to raise the funds to restore the duck. The Waverly Lake Duck was launched back to his home-based water June 29, 2017.
Sharon Konopa supported the need for a new police station and downtown fire station ever since she was first elected. With thanks to the voters of Albany these two facilities were completed the end of 2017.
Mayor Sharon Konopa was honored with the Oregon Mayor's Leadership Award for 2017. She had no idea she was nominated for this award.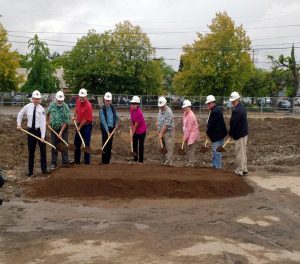 The award was for a large city, as Albany is the eleventh largest city in the state.
Mayor Konopa supported for fifteen years the Albany Historic Carousel Project. It was a grand day in Albany on August 15th with the opening of Albany's gem of a new building. Thousands of hours of love were put into the artwork and planning to bring this beautiful facility to Albany, where many generations will always have a joyful time when visiting.
---
2015-2016
Sharon Konopa has worked diligently in providing twenty years of service to Albany.  Her position is volunteer, yet more than a full time job and many seven days a week. The role of mayor is not just for city council business, but mostly out promoting Albany at community events and many non-profit organizations. Also, many local and regional government committees.
The economy is strong in Albany which reflects on her leadership and mostly the committed Albany City Council and staff.
---
2010-2014
Accomplishments as Mayor- The mayor's position rarely votes on issues unless there is a tie vote among the city councilors. Mayor Konopa spends the majority of her time and energies into promoting Albany to visitors and support civic activities, yearly community events and non-profit fundraisers.
2014- Sharon Konopa is currently on a steering committee for Restore Oregon.
June 2014–Sharon Konopa is proud to see the current revitalization project of Woodland Square on Salem Avenue, after 18 years of her working to find a solution to this needed housing project. The trailers have been removed and a new complex is currently being constructed. As Sharon has always stated when referring to this property: "No one should have to live in substandard housing and this project will better the lives of these residents by moving them in to standard housing."
2013-Sharon strongly supported updating a few older city ordinances, which solved certain disorderly activity among some individuals in Albany. Also, a proactive measure to minimize individuals panhandling and to encourage them to work with our local social service agencies.
2013-Sharon was a part of a litigation team that successfully settled a dispute between the City and a major corporation that did not fulfill their contract.
2013-Sharon Konopa helped establish the foundation for our Community Development Block Grant program.
2012-Sharon was on the steering committee in establishing a Metropolitan Planning Organization. This MPO supports Albany's Transit System and other regional transportation projects.
2011-current position-Sharon Konopa was appointed by the Governor to the Oregon Rapid Rail Leadership Council. She was diligent in making sure future rapid rail did not by-pass Albany's Transit Center.
2011-Sharon Konopa formed a task force to assess the City's lodging tax to better promote the great amenities Albany has to offer its visitors. This has resulted in Albany having an all time high for lodging tax revenues. These revenues support the great events that Albany provides its citizens–Monday at Monteith, Movies by Monteith, River Rhythms, NW Art and Air Festival, Albany Veteran's Day Parade and more.
2011- current-Sharon Konopa was a strong voice for the I-5 Interchange Study to make sure Albany neighborhoods were not impacted from future infrastructure changes.
2010-Sharon has been a strong supporter of Talking Water Gardens, since the initial property acquisition. Albany now has a beautiful 50 acre wetland park with two miles of walking trails, bridges and waterfalls for visitors to see. Talking Water Gardens is free to visit.


---
2009-2010
At a time our nation has been faced with one of the worst economic times- Mayor Konopa was able to be a part of bringing in the most dollars in Albany's history. In just over a year and a half…..
Konopa supported receiving millions of dollars for Albany.
Sharon Konopa was jointly responsible in bringing in $20 million dollars, the most discretionary funds that the City has ever received during one of our nation's worst economic downturns.  Plus a $5 million value of land to bring new jobs for Albany's future.
Advocated and supported congressional leaders to award 8 million  federal dollars to build the wetland project that filters and cools down the effluent from the wastewater treatment plant. This project was a federal mandate and these federal funds saved the ratepayers of Albany from higher sewer rates. This funding provided many jobs to complete this project and is a environmentally friendly process.
Encouraged one of our long time Albany manufacturers to receive federal grant dollars to add on to their facility and add jobs in our city.
Supported to not raise water rates for the past two years and for this upcoming year.
Advocated and supported the energy assistance grant money of $200,000 to reduce the city's energy costs.
Advocated and supported the state grant dollars to repave Waverly, Geary, Salem and Queen Streets.
Assisted with forming a mayors group to explore a regional approach to economic development. Supported to gather new data to better assist busineses in searching for property to bring jobs for our region.
Strongly encouraged the restructuring of the city's building department to be self-supporting and sustainable.
She has not utilized city funds for any reimbursements for her Mayor expenses.


---
2005 – 2008
Accomplishments from 2005 through 2008 which directly affect all of Albany.
Sharon Konopa has been a part of the formation, and continues to champion Albany's urban renewal program to revitalize the downtown core area/riverfront with new shops and restaurants.  She has been a strong supporter of strengthening existing businesses and revitalizing Albany's historic downtown and riverfront.
Sharon is the only current City Councilor actively involved in helping the homeless to become self-sufficient and self-reliant. She has helped the homeless get jobs and housing and is actively seeking solutions to end the chronic homeless problem, which Albany has been faced with recently.
Konopa voted no for a water rate increase, in 2007, when city staff stated the City Council did not need to raise the rates due to more revenues than expected. The majority of the Council voted to increase the water rates.
She has been a strong supporter of North Albany residents in dealing with environmental and traffic issues brought on by the rapid growth of new subdivisions.
Sharon Konopa managed a levy campaign and went door to door supporting the police and fire departments in retaining their funding for police officers, firefighters and paramedics.
Konopa has supported, over her years of service, all residents in Albany in dealing with their neighborhood issues.
Sharon Konopa has been a strong supporter of strengthening and retaining existing businesses and is against placing the costs of growth onto existing businesses and residents of Albany.


---
1997- 2004
Accomplishments From 1997 through 2004, directly affecting Ward II, the people who elected Konopa to represent them.
Konopa strongly opposed the new water treatment plant, and questioned how we would pay for it. After her objections were overridden by the Council, Konopa served on the Water Facility Plan Task Force for three years, where she opposed the cost allocations that resulted in increased water rates, and the subsidizing of new development by established Albany residents.
Sharon Konopa supported the 53rd Avenue/Brookfield neighbors in their successful fight to lower their street access improvement assessments.
She supported the neighbors of the Marion Street project and helped them achieve a reduction in the scope of the project, thus lowering their assessments.
Konopa supported the Hill Street neighbors in saving their on-street parking.
She has helped with noise abatement solutions when local industry has affected surrounding neighborhoods.
She assisted the Oak Creek and Spring Meadow subdivisions in advocating for a neighborhood park for their 53rd Aveue area.
Sharon Konopa advocated for pedestrian safety improvements in the reconstruction of 34th Street and helped property owners have a voice in the design's impacts.
Konopa supported neighbors on public safety issues and contributed many hours of her time to increase the funding to add staff to our police and fire departments.
She supports neighborhoods with urban land use planning issues.
Sharon successfully campaigned against a planned 50-acre gas fired power plant sited within 100 feet of existing residential neighborhoods. Emissions from the plant's two 155-foot towers would have impacted all of South Albany.