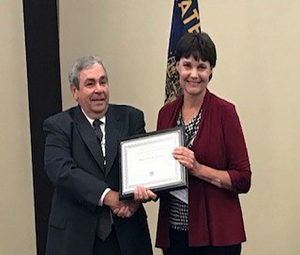 Mayor Sharon Konopa Receives State Leadership Award
August 2, 2017 – City of Albany
Albany Mayor Sharon Konopa has been honored by the Oregon Mayors Association with a Mayor's Leadership Award for 2017. She received the award at the Association's summer conference in July in Lebanon. Creswell Mayor Dave Stram also received the award.
Konopa has served the City of Albany for the past 20 years, the last eight as mayor. In one of many letters nominating her for this award, a neighbouring mayor wrote: "Mayor Konopa is a person of great integrity. As an advocate, she makes strong statements in support of her positions. Whether one agrees or disagrees with her position, she demonstrates leadership when others may practice politics."
More than 20 years ago, Konopa helped to found the non-profit Albany Partnership for Housing and Community Development to provide low-cost housing for residents in need. In 2006, when Albany Police dismantled a very large homeless camp in Simpson Park, she personally picked up people from the camp to take them to appointments at the Employment Department and with housing agencies. She continues to serve as the Partnership's board chair and helps manage the organization that provides more than 130 housing units for low-income families.
Konopa also believes in the importance of making her city an attractive place for people of diverse backgrounds. She was a powerful advocate for restoring historic buildings and encouraging residential units in what was becoming a blighted historic downtown. The result is visible every day as new businesses open, new residents move in, and projects are completed.
Established in 1993, the Mayors Leadership Award recognizes the valuable contributions that mayors throughout Oregon make to their communities each year. In judging nominees, the Selection Committee considers whether the nominee has: demonstrated exceptional leadership qualities that have contributed to lasting benefits in their city and the community as a whole; shown considerable involvement in community affairs and intergovernmental relations; shown exceptional skill in helping to facilitate productive relationships between the governing body and City employees; and helped other Oregon mayors reach their full potential as community leaders.
---
BLOG POST – Oct 26, 2016
"Down to earth", maybe this is the best word to describe how amazing Ms. Sharon Konopa, the mayor of City of Albany. On Wednesday October 19th 2016 around 01.00 pm, the Mayor took me and my friends at City Hall. She invited us to do a little tour around the city. We started our trip with visited the city parks, a new carousel and another public service places. During the trip, she told us a lot of things about how she serves the community. She has been a Mayor for 8 years but she already served the community for 20 years. Good and bad thing sometimes happen in work and the challenges. From those thing, I can learn that the Mayor just like a "bridge" who connect people and Government.
She is ready whenever people want to make complaint about the service or to hear their problem and the Mayor treat them like her own family. This is why the Mayor really close with her people. Wholeheartedly serve without expecting any advantege in return. This kind of leadership I expect personally can be implemented in my country, there is no limit between the leader and the people. People of Albany very respect her, this shows that no need to be authoritarian to make people follow or submit the regulation.
If people stand behind, guide them and give them protection. If people stand aside, respect them. And if people against, embrace and make them friend. These things what make someone become a good leader.
---
A big day for the Waverly Duck
Written June 29th, 2017 by Hasso Hering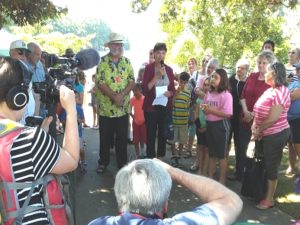 That was quite a celebration, the launching Thursday of Albany's Waverly Duck in the pond for which it was named.
My guess is that maybe 200 people, many of them kids, showed up. Half the city government was on hand, and Mayor Sharon Konopa was in her element, praising the duck as a piece of beautiful art and thanking everybody who had a hand in donating, funding, restoring, painting and finally towing this foam and fiberglass replica of a wood duck back to Waverly Lake.
The duck and its background have been the subjects on this site from time to time since last winter, when the mayor first got the city council's consent to accept the old and deteriorated duck as a gift. The story is told in detail in a City of Albany press statement you can read here.
Thursday it all came to together, and just about everybody who was there had a camera. So there must be thousands of photos and videos crowding cyberspace by now. And here are three more. (hh)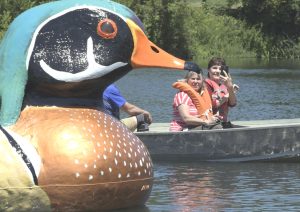 The giant foam and fiberglass rendering of a wood duck spent about 20 years on Waverly Lake until Albany Parks & Recreation Department removed it. Its paint was molting, and it was a frequent target for vandals; it needed a serious makeover. Since it was private property, the City couldn't pay to fix it up.
The duck's owner, Albany resident Mike Briggs, died in October 2016. His widow, Pam, contacted Mayor Sharon Konopa in January to offer the duck to the City. Ray Kopczynski, Ward II City Councilor, set up a GoFundMe account in hopes of raising $5,000 for refurbishing and ongoing upkeep. Ed Hodney, Parks & Recreation Director, pulled in the newly formed Albany Parks & Recreation Foundation to collect additional donations and sponsor the duck as its first project.
Kopczynski salted the GoFundMe effort with $100. A $3,000 donation from Darlene Chambers put the account well into the black. Donations currently total about $5,700.
Main Auto Body donated labor and materials to clean up the duck and prime it for repainting. The Mayor, Kopczynski, members of the Albany Arts Commission, and other volunteers painted the duck in early June. Richard and Barb Ferrell of Albany donated a trailer to transport the refreshed waterfowl to the lake.
Those who drive to visit the duck should plan to park in the lower lot at Waverly Park and access the lake via the pedestrian tunnel.
Tax-deductible donations to the continuing care of the Waverly Duck may be sent to the Albany Parks & Recreation Foundation, P.O. Box 490, Albany, OR 97321. For more information, call 541 917 7777.
---
The ride begins: Long-awaited downtown carousel holds a truly grand opening
Aug 15, 2017 • By Jennifer Moody, Albany Democrat-Herald article
Officials at Albany's Historic Carousel & Museum printed 2,000 boarding passes for Tuesday, opening day.
One hour into the day's celebration, they were already printing 1,000 more.
"I see a lot of happy people," said Jenifer Weinmaster, operations director for the carousel, which marked its grand opening and ribbon-cutting Tuesday. "That makes me happy."
Hundreds of spectators filled the intersection at First Avenue and Washington Street, lining up to be among the first to ride a moving work of art. The lines continued through the evening, to closing time at 7.
Carvers, painters, designers, engineers, mechanics, builders, fundraisers and other volunteers have put more than 200,000 hours into the 15-year carousel project.
Each of the 30 animals completed so far took some 2,000 hours to carve and another 400 or so to paint.
Read More
---
October 21, 2014 2:00 pm • By Steve Lundeberg, Democrat-Herald article
Sharon Konopa is seeking her fourth two-year-term as Albany's mayor and standing in her way are longtime challenger Charley Smith and Jim Clausen, who two years ago ran for City Council.
"I believe the accomplishments the council has made during my years of service clearly show in looking around Albany," Konopa said. "Talking Water Gardens, our historic downtown revitalization and riverfront, great parks, wonderful year-round events and summertime concerts, plus our well-known Northwest Art & Air Festival.
"My longtime support for working with Albany's business environment in creating family-wage jobs clearly shows we are a vibrant community. Also, I have supported helping the homeless to move towards being self-reliant by working with our social service agencies; this has reduced many neighborhood livability issues."
Konopa added that she's "proud to say Albany is at its all-time high for generating tourism revenues, which helps support our economy and to promote city events and activities. We do have a challenge in paying for street maintenance and the council will need some future conversations in how to fund our short- and long-term street improvement needs."
Two years ago, Konopa picked up around 11,700 votes and Smith received about 6,500.
---
February 07, 2012 9:15 am • By Sharon Konopa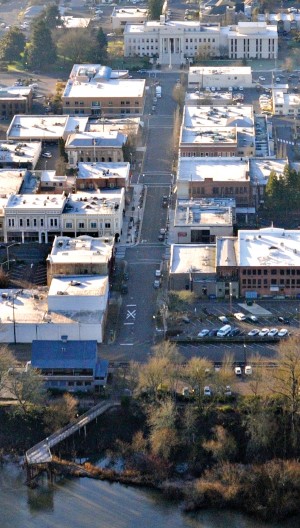 Looking south on Broadalbin Street from the Willamette River to the Linn County Courthouse. The city plans to rebuild the block beyond the one where the east-side sidewalk has already been widened.
The Democrat-Herald has recently included news stories, editorials, and letters to editor that raise questions about the Broadalbin Promenade street reconstruction project. Thank you for the opportunity to respond.
The Promenade has been part of the Town Center Plan, the city of Albany's vision for downtown, for more than 16 years. Albany residents made that plan with help from urban planners with nationwide experience. The Central Albany Revitalization Area (CARA), our urban renewal district, is founded on the Town Center Plan.
The Promenade is designed as a downtown boulevard with a park-like setting, connecting the river with downtown and the civic center. The plan includes street rehabilitation projects on First, Second, Third and Water avenues, along with Washington and Broadalbin streets. First Avenue was completed a few years ago. In the middle of downtown, Broadalbin ties it all together.
The public infrastructure in the Promenade — water and sewer lines and the street reconstruction to replace the second block's crumbling and dangerous sidewalks — make up most of the estimated $510,000 project cost and will be funded by CARA. The second block is designated for permanent tables and chairs for people to sit, visit and enjoy the area.
The final cost of the first block of the project was $456,938; of that the amenities including lighting, planters, and benches totaled $56,127, about 12 percent of the overall project.
The second block of the Promenade will enhance a blighted section of Broadalbin and help showcase the surrounding historic stock of buildings. When the First Avenue streetscape was completed, it sparked the rehabilitation of historic buildings on both sides of the street from Lyon to Washington streets, financed largely by millions of private dollars.
If CARA's tax increment financing was not available, the only other tool to replace this 100-year-old infrastructure would be the city's Street Fund. Using CARA funds keeps the Street Fund available for other needed projects outside of the Town Center area, such as Jackson Street by the police station and the Linn County Jail, which will be rebuilt this summer.
Some question the project's timing, as they did when the first block was done two years ago. We listened to those concerns and scaled the project down from four blocks to one. We are doing only one more block now, acknowledging those concerns.
Undertaking this project now takes advantage of low construction costs, creates jobs, and sets the table for continued downtown redevelopment just as the First Avenue streetscape did.
If we do not do the work now, when should it be done and how should we pay for it? I believe replacing deteriorating streets and sidewalks is important to revitalize a downtown; I'm anxious to hear additional suggestions from you.
When Timber-Linn Park was rebuilt years ago, people had concerns similar to those expressed about the Promenade, but today no one questions that investment. We enhanced the streetscape of Timber-Linn Park along Price Road with sidewalks, benches and historic-style lighting. The same style of lighting has since been installed on Elm Street.
Talking Water Gardens is another example of pedestrian amenities added to a public infrastructure project, with two miles of walking trails and bridges. I believe the downtown, the heart of the city, is just as worthy.
It's common for decision makers to have different opinions and the CARA Board and ARA votes for the Promenade were not unanimous, but that doesn't necessarily mean they do not support the overall concept. It is important for decision makers to keep a community's vision in mind and reach a plan's goals.
At a community meeting in October 2009, the Promenade was chosen as the top-priority public space improvement for CARA. We listened then, and that is why we are implementing this project now.
A vibrant downtown is vital to the health of the entire community. A healthy downtown makes a community livable and is a major force in attracting new businesses, tourism and future jobs. The downtown core is the heart of a community. If you do not have a functional heart, everything else erodes away.
Albany citizens: We have an obligation to preserve Albany's history. Past investments were made for our benefit today, and today's investments are for future generations. We all care about Albany and its future and your local government works hard to fulfill Albany's vision for your community and your future.
If you have questions or concerns, you are welcome to call me or meet to discuss them.
---
Guest Editorial: Homeless: What we do
May 17, 2011 9:15 am
Recent letters to the editor, editorials, and provocative headlines on news stories about panhandlers and the homeless in Albany are an opportunity to let your readers know about the many ways that Albany helps the homeless.
No one in Albany should be without a place to live, whether that housing is permanent or a transitional homeless shelter.
In 2006, Albany shut down Camp Boondoggle, a long-established and illegal homeless camp at Simpson Park. Simpson Park was donated to the city as a conservation easement that requires it to be preserved as a natural area. The camp had years' worth of garbage scattered along a creek bank, many tents and hooches. Many household items in the camp had been stolen from the surrounding neighborhood, including wood products, batteries, welders, appliances, and generators. Neighbors came to the city council with concerns about high crime in their area, prompting the council to shut the camp.
City staff provided 30 days notice and worked with campers to find them places to live. I personally offered to help the 40 people there find jobs and housing. Some accepted the offer and some moved on. No one from Camp Boondoggle is among the panhandlers you see on Albany streets today.
After Camp Boondoggle was shut down, the Albany City Council supported efforts to draft a 10-year plan to end homelessness in Linn County. I co-chaired the Ten Year Plan Committee, which included representatives of every government and nonprofit agency in the region. The goal of this plan was for every person to have a roof over their head and to become self-sufficient, whether by themselves or with support. This plan put in place the tools to guide every homeless person from a shelter to housing or transitional housing.
Our local homeless shelters work with the homeless to be responsible citizens and reach the goal of being in housing. They train shelter guests for work in restaurants, as custodians, in retail, and landscaping. The number of guests at local shelters has decreased since the Ten Year Plan was completed in 2009.
The Albany Partnership for Housing, a local nonprofit, recently established a program that brings people from the homeless shelter to a house that provides supportive services. The tenants must follow a plan driven by a case manager to become self-sufficient. This plan may include money management skills, work ethic, education, behavioral management and housekeeping. The program intends to replace circumstances that lead people to be homeless with the skills and means to become and remain self-sufficient.
If a person gets stranded in Albany and has no means to return to family or a job, the Toto program offers a way. Individuals or families can contact Albany Police or Fish of Albany to ask for help. Police or Fish verify that the person has a place to go where family or employers want them. Toto funds, provided through donations and a grant from the Police Department, are used to buy bus or train tickets, taxi fare, or to fill a gas tank to get them there.
Albany's homeless shelters' rules prohibit alcohol and drugs. If guests break the rules, they are kicked out for a certain number of days. To get back in and to stay, guests must live by the rules.
The homeless under the Pacific Boulevard overpass have been kicked out of the shelters. Some are alcoholics and stand on the sidewalk with a sign asking for money: this is called panhandling. Such activity is free speech, protected by the Oregon and United States constitutions. The city cannot prohibit it. Private property owners or businesses can restrict panhandling. The money panhandlers receive continues their homelessness and their addiction to alcohol and drugs. This is their choice. They will not give up their addiction to get into a shelter.
Albany is a caring and giving community but many do not realize that by giving money to a homeless person, they are continuing their homelessness. It is better to donate money to the many nonprofit agencies that serve the homeless. Those donations truly help these people.
Some panhandlers are not homeless; this is how they make a living. Some have vehicles and come to Albany because they know we are a caring community. As long as people give panhandlers money, they will continue. Our local shelters do not allow panhandlers to stay there.
One man who has been panhandling under the overpass is a veteran who has been offered housing and detox. Veterans Administration officials in Eugene are working to make this happen. However, they fear that if people keep giving him money, he will lose the motivation to take their offer.
Someone has asked why we can't have a public place for the homeless to hang out during the day. The homeless shelter has a day use area. Individuals who want to be there must follow shelter rules. Everyone in this world has to follow rules wherever we go.
This newspaper and a letter writer have suggested establishing a tent camp. If we did, crime would increase wherever it was located.
A legal tent camp would have rules and not everyone would accept them. Some who could have camped at Boondoggle objected to that camp's rules and chose to live along our riverfront instead. If a tent camp was established, I guarantee the location would be filled in a few weeks and even more homeless would move to Albany. Who bears the costs of providing sanitary services to the camp, then more land when the camp needs to expand?
The Ten Year Homeless Plan Committee discussed tent camping options at length and decided that it is not a solution to a person's homelessness. Every person should have a proper home. The panhandlers have chosen their path; they must be willing to change to get into housing.
Please consider donating to local agencies that are truly of service to the homeless in order to find them housing. If you give money to a panhandler, you aid their addictions and continue their homelessness. A list of local nonprofit agencies that serve the homeless can be found at http://www.csc.gen.or.us/. Click on the link to the Ten Year Plan to End Homelessness.
---
October 26, 2010-Albany Democrat Herald Editorial
Mayor has done a great job
Because one of the candidates for Albany mayor, Jo Rae Perkins, is the chair of the Linn County Republican Central Committee, partisan politics may play into the outcome of the vote. It shouldn't. This is a nonpartisan office, and partisan support means nothing in relation to performing this municipal job.
Mayor Sharon Konopa is completing her first two-year term after many years of serving on the city council. As mayor, she has done an outstanding job.
She does not always agree with the majority of the council but she has been unfailingly fair and courteous in presiding over council meetings and making sure everyone has been heard, sometimes more than once.
Mayor Konopa has been stellar in representing Albany at public events. Her combination of informality of expression, deep knowledge of city facts and policies, and personal sincerity come through every time she speaks.
As a councilor, she took personal action to clean up a homeless camp in a humane way, and she has striven since to end homelessness, not just talk about it.
The other candidates, Perkins, Jeremiah Allen and Charley Smith, all have qualities. As far as can be seen, none match the combination possessed by the mayor, a very big part of which is her demonstrated ability to disagree without being disagreeable, and to take a lot of flak—-including unjustified criticism and personal attacks—-and keep her cool.
The mayor serves principally as the titular head of the elected part of city government. The excellent job she has done in that role has earned her a second term. (hh)
---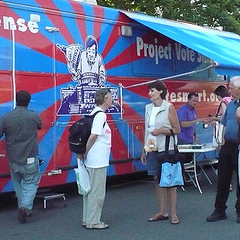 August, 16 2008, Democrat Herald
Project Vote Smart rolls into Albany
Sharon Konopa, who was responsibile for coordinating the Project Vote Smart Bus Tour stop at the Albany Farmers' Market August 16, 2008, is seen chatting with local citizens http://www.votesmart.org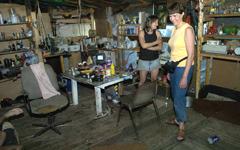 Thursday, May 18, 2006, Democrat Herald
Albany councilor tours homeless camp
The people living at Camp Boondoggle, a homeless camp east of the Simpson Park lakes, still don't know where they're going to live once evicted, they told Albany City Councilor Sharon Konopa on Wednesday . . . more